Molise Tourist Board Invitation
Last weekend I had a last-minute invitation to Molise by the Italian Tourist Board. I jumped at the opportunity as this is probably the most unknown Italian region for travellers
Molise is one of the smallest regions in Italy and the last to be created. In 1963 they decided to separate from Abruzzo, so no wonder why they just started to promote the region with international travellers. Molise shares borders with Abruzzo, Lazio, Campania and Puglia. If you are not familiar with Italian geography it is kind in the middle/south on the map. I've been curious about this region, I came across many times the say 'Molise non esiste' and who doesn't want to visit a region that doesn't exist?
Fam trip itinerary
You can reach Molise by flying into Rome or Pescara. We flew into Rome and drove two hours south east until we reached the town of Castel del Giudice. This in what is known as 'alto Molise' (top of Molise) right next to Abruzzo.
Day 1 – National Park – Scapoli – Fornelli
My first impression was how green and unspoiled the landscape was, it didn't look anything like any other region in Italy. Our first day started full of promise on board of a 4 x 4. Alessandro and Michele from Molise Explore took us for a drive around the Montenero Valcocchiara, a valley full of wild horses, cattle, wild flowers and tratturi! A glimpse of the snowy Apennines mountains in the background was a bonus!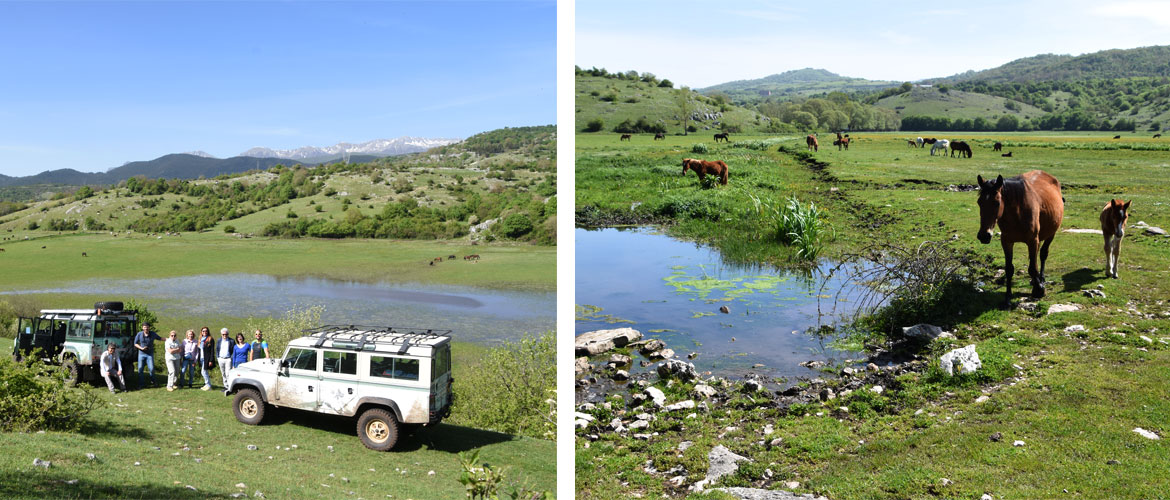 From here we drove towards the National Park of Abruzzo, Lazio and Molise. The Park is right in the middle of these three regions. Our first visit was to the workshop of a leather artisan, Marruca , in the little town of Pizzone. They sell artisan products and workshops, in a couple of hours you could learn how to do your own leather sandals. If you rather have your own made to measure leather shoes they will happily take your measurement and post it wherever you are.
We continued south, briefly stopping at the piazza of Castel San Vincenzo, here we encountered one of the most stunning of Molise landscape scenery.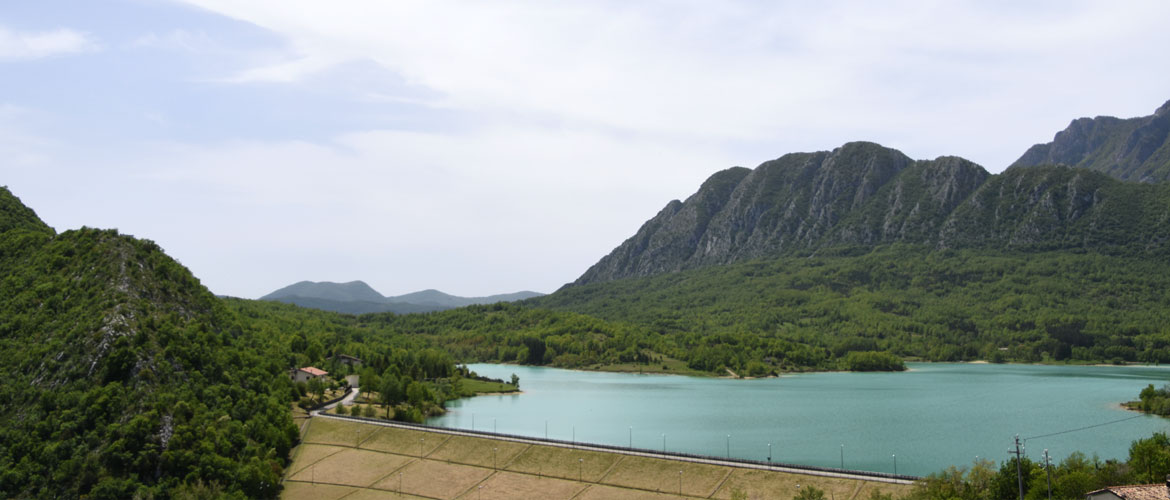 After a few pictures we visited on of Molise most famous Abbey, the 'Abbazia San Vincenzo al Volturno' . The original Abbey was built in the 13th century and the entire monastery spanned few hectares. Sadly it was destroyed on many occasions by the Saracens and a new church was built in 1963.
Our next stop was Monte Marrone, in the heart of this National Park, in pursuit of the best Italian picnic I've ever had! We stop near the top where we found twins brothers Alessandro and Antonio, owners of Scapoli shop Bottega dei Sapori, cooking 'al fresco'.
They were cooking the most exquisite pasta dumpling I've ever tasted, the famous 'raviolo scapolese'. This raviolo is filled with potato, meat, dried sausage, chard, mozzarella and parmesan. Each parcel weights nearly 100 grams, a couple will be more than enough to keep you full all day!
Afternoon in Scapoli and Fornelli
In Scapoli we went for a 'digestivo' at the Rufo Distillery, one of the few distilleries in the region. Here owner Emanuele produces a large variety of typical Molise liquors and grappa. My favourite one was the 'trignolino' made from wild berries. Later wet visited the Sampegna Museum (bagpipes), the most iconic instrument of the Molise music and folklore.
Our last stop of the day was in one of the prettiest towns in Molise, Fornelli. This it is a medieval hill town that made it to the Borghi piu belli d'Italia. This beautiful Borgo has the best preserved castle walls I've ever see.
The sunset here is not to be missed! A famous quote in Fornelli says 'unhappy the man who has never see the sun going down in Fornelli'. Here we also had one of the best meals on the trip, at the recently opened 'La Vecchia Torre', please don't leave without trying Ms Rosa's heavenly Tiramisu!
Day 2 – Agnone – Verrino Valley
In Agnone we visited the factory and museum of the Marinelli Bell Foundry, one of the most ancient artisan bells producers in the world. This family business has been making bells for over 900 years. They use the Papal Coat of Arms in their bells as they were granted this privilege by Pope Pio XI in 1924 .
Another al fresco picnic followed this time in Agnone's countryside, the Verrino valley. Mr Leone and his two dogs were waiting for us to go truffle hunting. Molise is famous for its truffles, almost 40% of the Italian truffle market comes from Molise.
See you soon Molise!
We said our goodbyes in a wonderful farewell dinner enjoying a few bottles of delicious Tintilia wine from Torresacre Winery
The organizers, Molise Region, Molise Explore and Omega Travel went beyond duty to make our stay a memorable one. Their passion and love for this land were infectious.
I honestly didn't know what to expect in Molise but I left with a strong desire to come back and discover more of its land and culture.
I am already planning another trip to the coast next week!
For more info write me at NDLB mail